Low-Power Portable EV Charger is suitable for most regions in the world such as Europe, North America, Australia, the Middle East, Asia, etc. It is currently the most widely applicable portable EV charger.
The maximum charging current of the device is 16A and the maximum power is 3.6kW.
Its working voltage ranges from 110V to 240V (±10%).
It supports multiple current switching modes, such as 8A, 10A, 13A, 16A, etc. suitable for different charging environments.
Some models have charging settings such as delayed charging.
Product performance of the device is perfect, suitable for all types of electric vehicles on the market
An electric car with a battery capacity of 80kWh takes about 18-20 hours to be fully charged.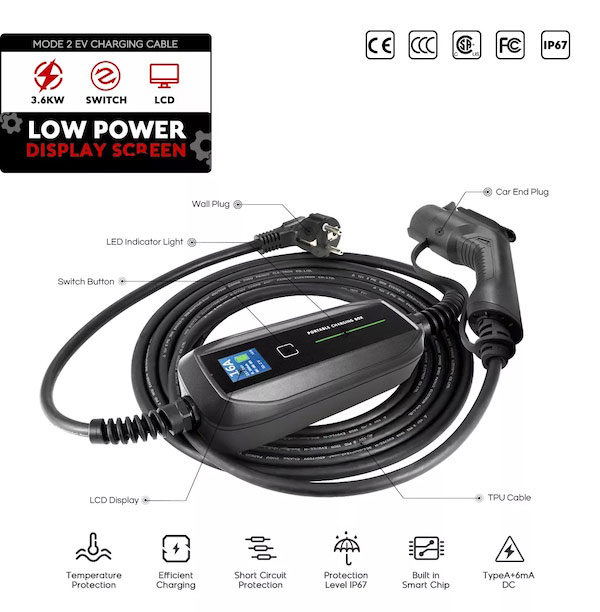 Portable EV Charger 10A 16A with SAE J1772 Cable Type 1 plug
Products Model: HWPC0110,HWPC0116
Plug for 10A :UK、AU、NZ、NEMA 6-20、NEMA 5-15

Plug for 16A : CEE、SCHUKO 16A、NEMA 6-20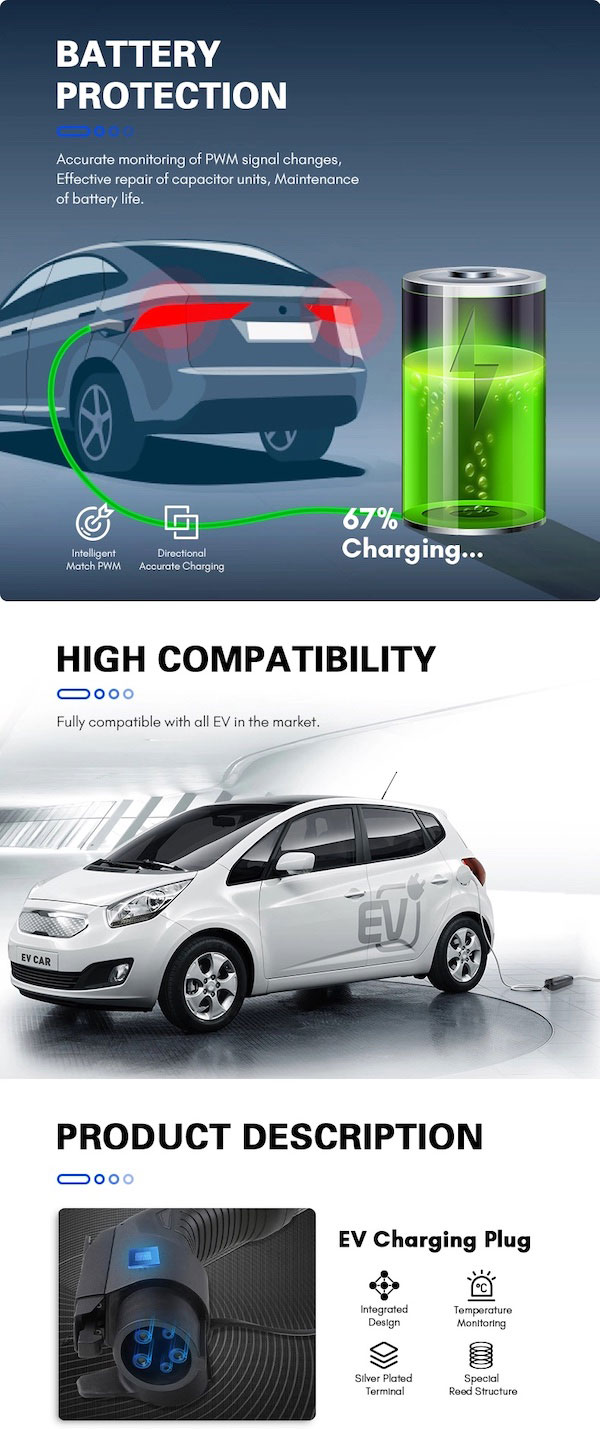 CORE ADVANTAGE
High compatibility
High speed charging
Equipped Type A+6ma DC filter
Automatically Intelligent Repair
Automatically restart function
Over-temperature protection
Full link temperature control system
EV PLUG
Integrated design
Long working Life
Good conductivity
Self filter the surface impurities
Silver plating design of terminals
Real-time temperature monitoring
Heat Sensor guarantee the charging safety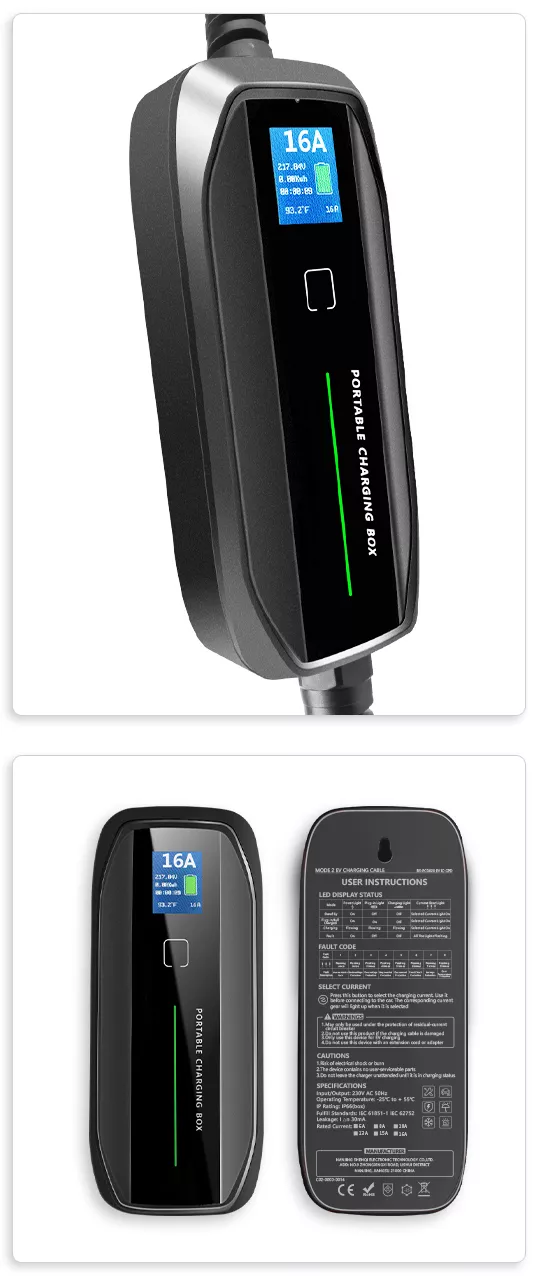 BOX BODY
LCD display
IK10 Rugged enclosure
Higher waterproof performance
IP67, rolling-resistance system
TPU CABLE
Comfortable to touch
Durable and preservative
EU standard ,Halogen-free
High and cold temperature resistance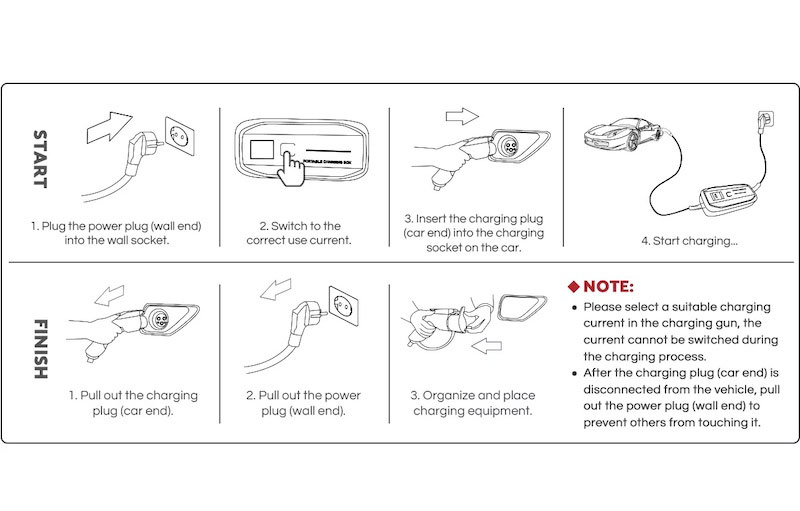 The portable electric car charger belongs to the LEVEL 2 AC charger, and the charging power is generally 3.6kW-22kW. In order to prevent potential safety hazards due to incorrect use, please read the equipment manual carefully before use. Do not charge in places that do not meet the charging conditions. Ensure that the power supply and wiring are in a normal state before use.
Do not immerse the device in water.

Do not use it in an environment that exceeds the operating temperature.

Do not put your fingers into the car end plug when the device is connected to the power source.

Do not use when the equipment and cables are found to be damaged.

Do not use the device for charging other than electric vehicles.

When using the adapter (10A to 16A), it is prohibited to adjust the charging device to 16A mode, Prevent safety hazards!

The precautions for use include but are not limited to those listed above.

If you are not sure whether it will cause safety hazards, please contact after-sales service in time.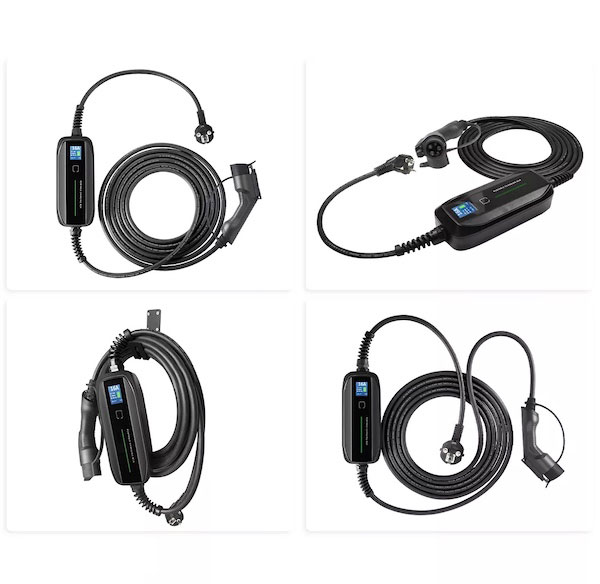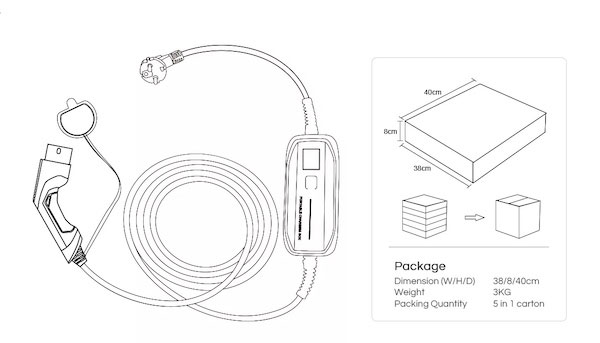 Electrical Specification
Input Voltage100V AC
Output voltage250V AC
Max. output Current16A
Max. output Power3.6kW
Input Frequency 47~63Hz
Charging interface type IEC 62196-2, SAE J1772
Working Environment
Waterproof Protection Degree IP67
Maximum Altitude <2000m
Environment Temperature -40℃ ~ +55℃
Relative Humidity 0-95% non-condensing
Standby Power Consumption <8W
CoolingNatural air cooling
Function and Accessory
Ethernet/WIFI/4G/Bluetooth No
LCD 1.8-inch color display
RCDType A / Type A+6mA
LED Indicator lightRolling
Intelligent power adjustment Yes
RFID No
Certificate
CE,FCC,CCC,CSA,IK10,IP67