What do the three levels of charging piles mean?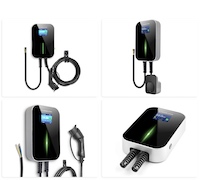 Many friends have heard that electric vehicle charging piles are divided into three levels, but they are not sure which level they need to install. In fact, the three levels are divided as follows:
Level 1 Slow Charger;
Level 2 Fast Charger;
Level 3 Super Charger;
Taking Tesla as an example, the charging head that is provided for free when we buy a car can be directly connected to the household power supply. This is the Level 1 slow charging pile. What we urgently need to install is the 240-volt Level 2 fast charging device.
Level 1 (slow) or Level 2 (fast) though both use alternating current (AC) charging. But the biggest difference between them is the charging speed.
Level 1 level 120 V household voltage slow charging speed is only 6-8 km / hour
Level 2 charging piles can charge at a speed of 50-70 km / hour
For an electric vehicle with a cruising range of about 500 kilometers, charging for 8 hours is enough to "resurrection with blood", so only if a Level 2 fast charging pile is installed at home, can the daily life of the car really not be taken care of. Worry about charging.
Level 3 uses direct current (DC) charging, so it is also known as DC ultra-fast charging (DCFC). This kind of charging pile is the "super charging pile" we see at Tesla super charging station. Because of its high operating power, ranging from 25 kilowatts to over 350 kilowatts, this utility can be charged quickly.
However, the cost of super charging piles is often dozens or hundreds of times that of Level 2 household grades. Therefore, it is not our first choice for home charging. Therefore, the installation of charging piles generally refers to upgrading and transforming the home grid and installing Level 2 charging piles.