EV Charging Gun Overview
EV Charging Gun another name Mode 3 EV charging cable types. Mainly for Europe market, it needs to be used with a Mode A EV charger. It mainly have two types, Type 1 to Type 2 and Type 2 to Type 2. The cable can be straight or spring. EV charging gun specifications, generally the length is 5m by default. It passed CE, TUV, CCC, ROHS etc certifications. Handwe EV Charging Gun are safe with reliable quality and perfect performance.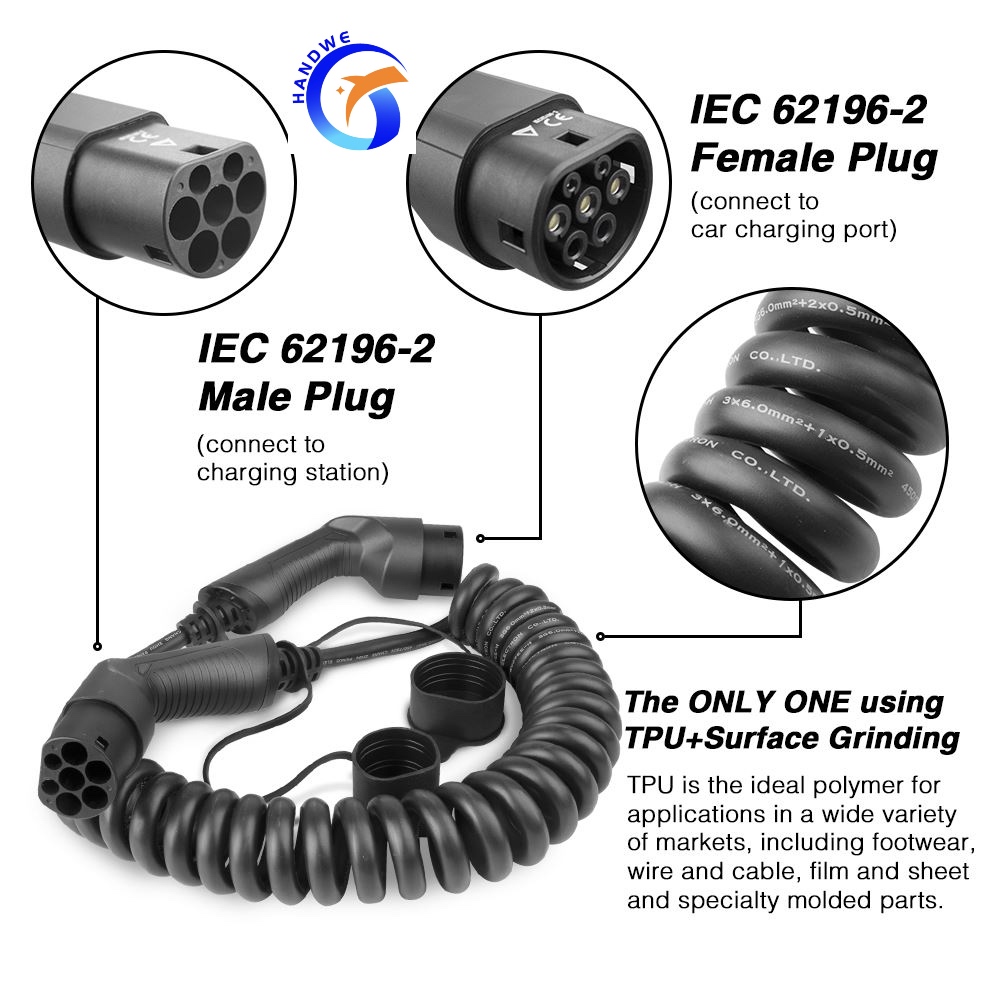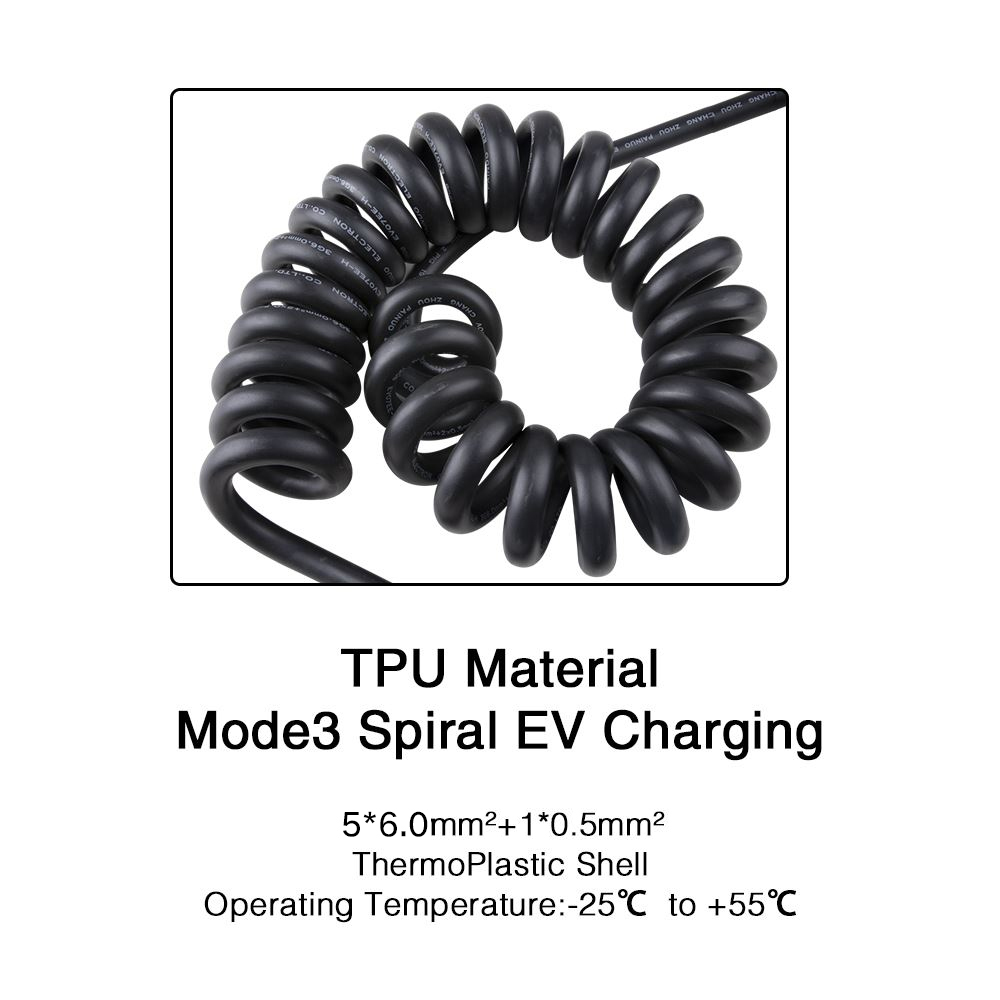 EV Cable (32A 3 Phase 22kW) with 16ft/5m Type 2 Female to Male Extension Cable
Products Model:HW2T232A3-S
Working Current: 32A 3Phase
Working Voltage: 440V AC
Certificates: CE,UL
Cable Length: Free End, 3m(9.8ft), 5m(16.4ft) Or Customized
Specification
| | | | | |
| --- | --- | --- | --- | --- |
| ITEM NAME | PLUG TYPE | CURRENT | PHASE | POWER |
| HW2T216A1-S | TYPE 2 to TYPE 2 | 16A | 1 | 3.6KW |
| HW2T216A3-S | TYPE 2 to TYPE 2 | 16A | 3 | 11.0KW |
| HW2T232A1-S | TYPE 2 to TYPE 2 | 32A | 1 | 7.2KW |
| HW2T232A3-S | TYPE 2 to TYPE 2 | 32A | 3 | 22.0KW |
| HW1T216A0-S | TYPE 1 to TYPE 2 | 16A | / | 3.6KW |
| HW1T232A0-S | TYPE 1 to TYPE 2 | 32A | / | 7.2KW |
Technical Data
Rated current: 32A
Working voltage: 440V AC
Insulation resistance: >500M Ω
Terminal temperature rise: <50K
Withstand voltage: 2500V
Contact impedance: 0.5m Ω Max
Mechanical life : plug in/out > 20000 times
Waterproof Protection degree: IP67
Maximum altitude: <2000m
Environment temperature: -40℃ ~ +75℃
Relative humidity: 0-95% non-condensing
Standby power consumption: <8W
Cable Sheath material: TPU/TPE 5*6.0mm²+1*0.5mm²
Cable Length: 5m or customize
Shell Material: Thermo Plastic ( Insulator inflammability UL94 VO)
Contact Pin: Copper alloy, silver or nickel plating
Sealing gasket: rubber or silicon rubber
Certificate: TUV UL CE FCC ROHS IK10 CCC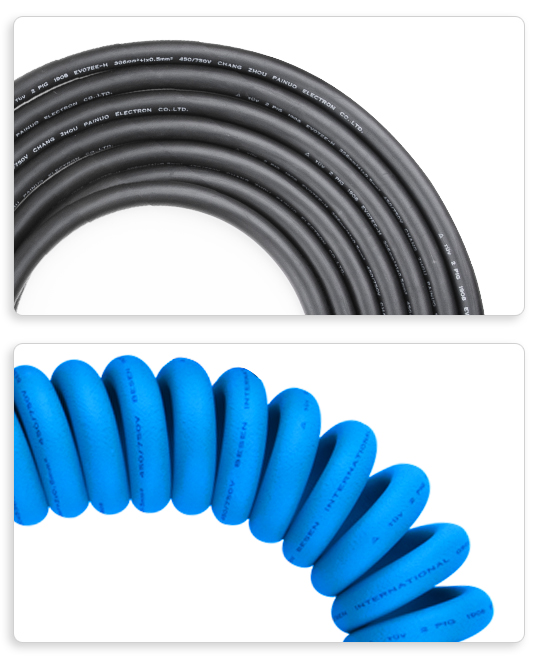 TPU CABLE
Stronger and anti-aging
Meet the newest EN standard
More environmentally friendly, halogen-free
More resistant to cold and keep flexible at -40℃
More resistant to bending and longer service life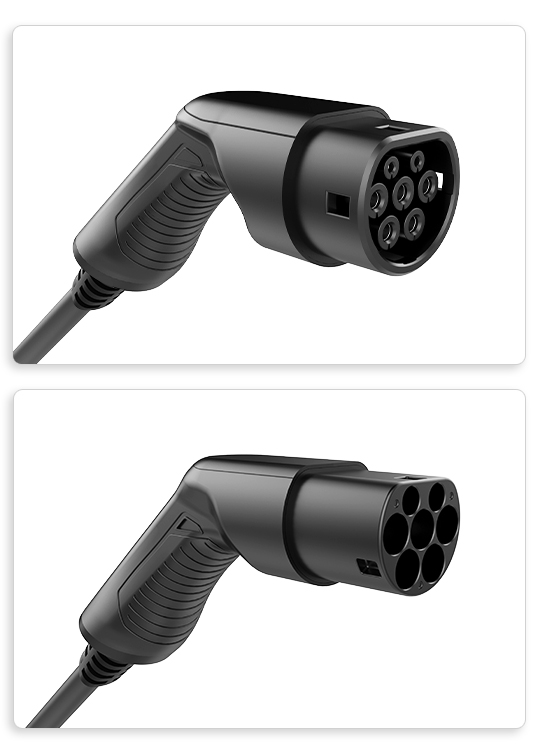 EV PLUG
Self-cleaning function on pins
Unique integrated design, stronger
Temperature monitoring on plugs (patented)
Better conductivity and higher energy transmission efficiency
Instructions for use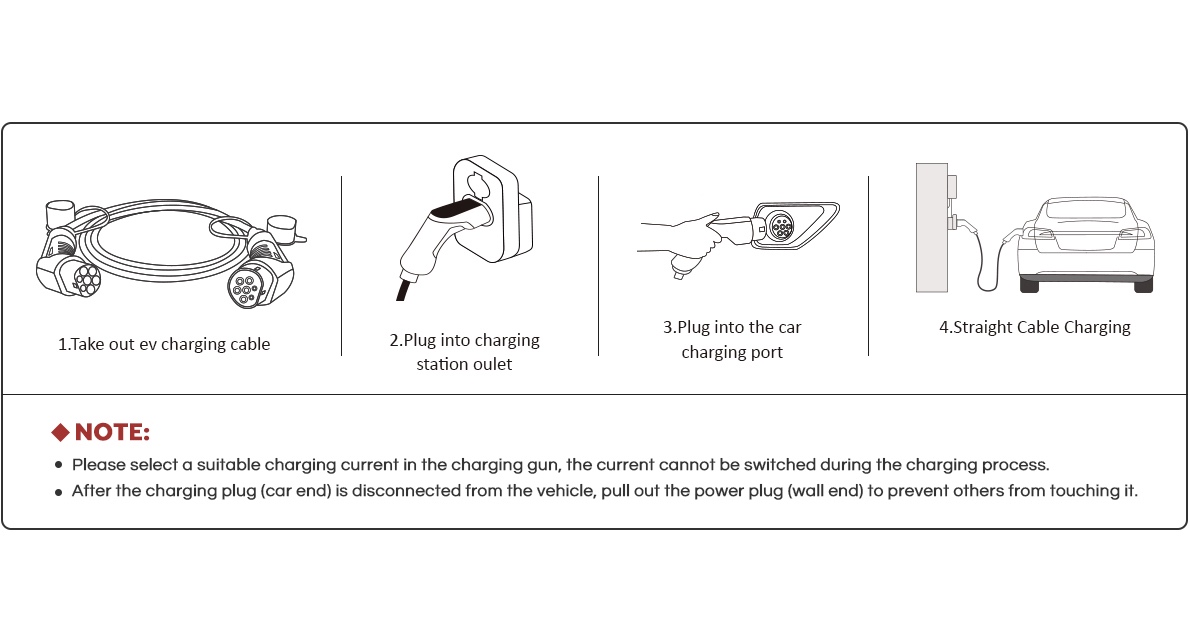 This product is special designed for electric vehicle charging, generally called a mode 3 EV charging cable used to connect EV charger and electric car. There are two types according to different car end plugs: Type 1 cable and Type 2 cable. This product has a unique integrated design and strong structure which can be used outdoor and in rainy environment. It could also withstand the crushing of a vehicle. The product is equipped unique temperature monitor system. To ensure the safe operation, it will automatically cut off the charging current when the temperature is over set value.
Package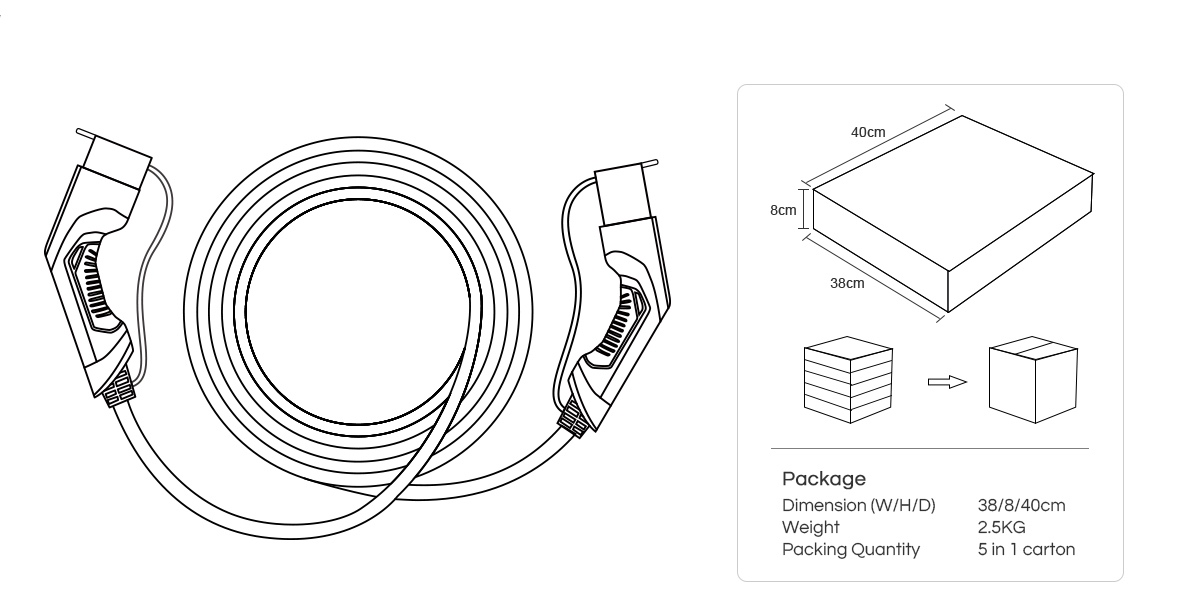 Ralated Products